PondMax EV-2900 Submersible Dirty Water Pump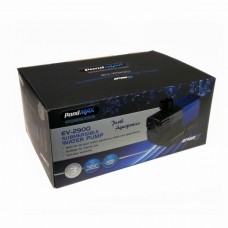 Product Code:
PondMax EV-2900
Availability:
In Stock
Price: AU$239.90

PondMax EV-2900 Dirty Water Pump - Suitable for Aquaponics, Ponds, Waterfalls etc.
- The EV range of water pumps are ideal for situations where water may contain soft solids, fish food, fish waste, etc to 4mm.
- Suitable for use in Aquaponic and Hydroponic set-ups, ponds, filtration systems, water features and waterfalls.
- The ideal pump for Twin IBC Aquaponic systems (ie: 2x IBC type grow beds sitting over an IBC fish tank and IBC Sump tank)
- Will easily run 3x IBC type Aquaponic grow beds, each with a bell siphon utilising a 20mm standpipe.
Variable Frequency Motor Technology - Extra high speed rotations of impellor.
Open Vane Impellor Design - Handles large soft particle size to 4mm, fish food, fish waste etc.
Long Life Impellor Design - Ceramic shaft is wear resistant and self lubricating.
High head Pressure - Due to extra high speed rotations of impellor.
Energy Efficient - Exceptionally low power consumption to water flow... Just 30w for 3,000Lph and max head of 3.4m.
Eco Friendly - Exceptionally low dB noise rating with low mechanical vibration.
Marine Compatible - Ceramic shaft and no exposed copper.
Rotor Stop Protection - Sensors automatically cut power if impellor stops rotating, reducing chance of motor burnout.
Soft Start - Rotor starts at slow speed and increases over a short period of time.
Model: EV-2900
Max Flow: 3000 Lph
Max Head: 3.4m
Watts: 30w
Cable: 10m
Write a review
Your Name:
Your Review:
Note: HTML is not translated!
Rating:
Bad
Good
Enter the code in the box below: