Laminated A4 "Aquaponics - Getting Started" Instruction Sheet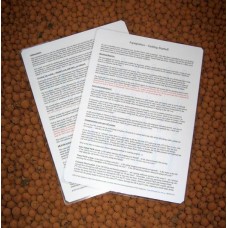 Product Code:
Aquaponics - Getting Started - laminated sheet
Availability:
In Stock
Price: AU$4.95

Laminated, double sided A4 Instruction Sheet - "Aquaponics - Getting Started"
This sheet is basically an "Aquaponics 101"... Everything you need to know when starting up and "cycling" a new aquaponic system.
- Beneficial Nitrifying bacteria explained - Establishing the bacteria colony and how the colony size determines the systems maximum fish stocking rate.
- Choosing the right grow bed media/gravel - Determine which gravel best suits your system and budget, and how to avoid purchasing the wrong gravel.
- Commissioning your new aquaponic system - Problem solving common new system issues, for a variety of system types, siphoned, constant flood etc.
- Adding plants to your new system - How to with minimal stress, what to feed then initially etc.
- Cycling the system - The important bit everyone should know! - How to properly cycle the system, test the progress, and know when cycling is complete and the system is safe for fish.
- System water pH - What it should be, what causes it to fluctuate, how to control it.
Write a review
Your Name:
Your Review:
Note: HTML is not translated!
Rating:
Bad
Good
Enter the code in the box below: