RUSH & Budlink 2Ltr Combo Pack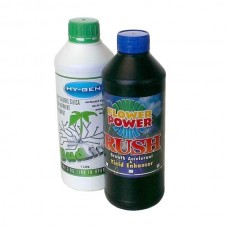 Product Code:
Rush Humic Acid & Budlink Silica Combo Pack
Availability:
In Stock
Price: AU$50.00

Rush & Budlink 2Ltr Combo Pack - 1Ltr of Rush & 1Ltr of Budlink - Achieve "Next Level" results!
---
SPECIAL! - March only... Buy a 1Ltr bottle of Budlink Silica and receive a 1Ltr bottle of RUSH at 50% OFF
Regular price for these two products purchased individually = $50.00... For March only pay just $36.00 for the combo pack!
---
What is Rush?... Rush contains powerful, naturally occurring chelating agents extracted from ancient deposits of decayed organic matter. It's these same natural chelating agents that keep the top soil on forest and jungle floors extremely fertile and healthy... It's exceptionally rare to see a plant with nutrient deficiencies in a healthy forest or jungle, this is primarily due to these naturally occurring chelating agents being released from decay...ing organic matter, or humus, on the forest floor.
What does it do?... Rush allows your plants to take up more nutrients, faster and more efficiently, especially nutrients that are otherwise extremely difficult for plants to take up, such as Silica... all without having to increase the nutrient level, or EC value, of your nutrient solution.
When used with your regular hydroponic nutrient, Rush will promote faster growth rates and increased yields... but for "Next Level" results, try also adding a Silica additive, such as Budlink, into the mix... When used in conjunction with Silica, Rush will provide stronger plants, with thicker stems, greatly increased pest & disease resistance, as well as even greater increases in yield.
Write a review
Your Name:
Your Review:
Note: HTML is not translated!
Rating:
Bad
Good
Enter the code in the box below: