Canna Rhizotonic - 1Ltr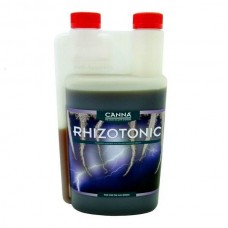 Product Code:
Canna Rhizotonic 1Ltr
Availability:
In Stock
Price: AU$120.00

1Ltr Canna Rhizotonic Root Stimulant
CANNA RHIZOTONIC is a powerful, algae based, organic stimulator for roots of fast-growing plants that already have roots or root initials. RHIZOTONIC stimulates further root development, increases the plant's resistance to disease and promotes its inner and outer strength.
RHIZOTONIC is 100% natural, and contains multiple vitamins.
RHIZOTONIC adds more than 60 microbiological substances that considerably speeds up the growth of a balanced root environment. Various trace elements and vitamins such as B1&B2 have been added to RHIZOTONIC in order to stimulate the plant production of hormones and root growth, thus providing better and stronger roots.
Benefits of CANNA RHIZOTONIC
Aids in the immediate generation of lush, new root growth on cuttings and transplants.
When used as a seed soak prior to planting, it will speed up the germination process.
Enhances overall plant growth and chemical reactions in the plant to ensure a healthier, powerful and stronger plant.
Aids in the recovery process of any plant or cutting that has been subjected to stress in any way whatsoever.
Write a review
Your Name:
Your Review:
Note: HTML is not translated!
Rating:
Bad
Good
Enter the code in the box below: