Introduction to Aquaponics - 1 Day Workshop - Perth - May 21st, 2017 - SOLD OUT!
Product Code:
Aquaponics Workshop - Perth - May 21st, 2017
Availability:
Out Of Stock
Price: AU$129.90

"Introduction to Aquaponics"
Perth - One Day Workshop - Sunday, May 21st, 2017
Presented by Hayden Arrowsmith of Perth Aquaponics
Trade certified Horticulturalist, Cert IV TAE, and owner of Perth Aquaponics.
Learn from an expert in the field with many years of real experience.
---
Perth Aquaponics is proud to announce our upcoming one day "Introduction to Aquaponics" workshop, to be held on Sunday, May 21st.
Our informative one day workshops comprehensively cover the fundamentals of Aquaponics, including the science (in layman's terms) of how and why it works, as well as the construction of a fully operating aquaponic system. At the end of the workshop you will have the knowledge and confidence required to build and maintain your very own aquaponic system at home, producing wonderful, organic vegetables and fresh fish... right in your very own backyard.
We start the day with a comprehensive theory session presented in a modern, comfortable seminar room in Belmont. During the session you will learn the basics of Aquaponics, how and why it works, different system types, important ratios, as well as what to do, and when to do it... and equally as important… what not to do!... and all in simple, easy to understand terms.
Although the theory session is quite intensive and covers a lot of information, we do try to keep it as relaxed and informal as possible.
Tea, coffee & biscuits etc will be provided during the morning tea break.
At the conclusion of the morning theory session we will relocate to a nearby shadehouse (also in Belmont), where a light catered lunch will be provided.
After lunch we resume the afternoon with a practical session where we will construct a working aquaponic system. This system will contain all the common major components you would expect to find in the average backyard aquaponic system, such as a Fish Tank, Sump Tank, Solids Lifting Overflow, Gravel Filled Grow beds, Bell Auto Siphons, Pump and associated plumbing etc, giving you a better understanding of the components, how they work, and how to install them etc.
By the end of the day you will have learnt about:
The science behind Aquaponics… How and why it works, the important role of beneficial bacteria, how fish waste is converted to plant food, etc.
The important Rules-of-Thumb... The all important Gravel, Water, Fish, Grow bed ratios etc, and how they determine how well your system will perform.
System design… The pro's and con's of a variety of different aquaponic operating methods and system designs, auto siphons v's timed flood & drain etc, and the many and varied ways a system can be laid out and constructed.
Cycling a new system... Establishing the beneficial bacteria colony and determining when the system is safe for fish.
Fish selection… The different species suitable for the Perth area and how to determine your system's safe stocking capacity for each.
Fish health… Preventing, diagnosing and curing common ailments of fish.
Testing and controlling water parameters... Such as pH, Ammonia and Nitrite levels, water top-ups, what pH products to use, why, when, and how much etc.
Plant selection… What grows well, when, and how to.
Plant health… Preventing, diagnosing and curing common plant deficiencies and diseases using fish safe products.
Plant Nutrient supplementation... What products are safe to add to the system, why, when, and how much.
Plant pests... Identifying and controlling common plant pests using fish safe methods and products.
Worms... and the important role they play in your aquaponic system, ie: cleaning grow beds and making more nutrients available to your plants.
Hands-on system construction... giving you an insight into the major components involved in the design and construction of your very own successful aquaponic system.
...all the information you need to achieve success with your aquaponic system but can't learn in a 2 hour workshop.
What's provided?...
- Writing materials and Tea & Coffee at check in. Water is available throughout the day.
- Tea, coffee & biscuits etc during the morning tea break.
- A light catered lunch and refreshments around 12.30-1.00pm.
Tickets:
Your purchase receipt will be automatically provided via email at the completion of check out. This receipt will constitute your ticket, which must be presented at check-in on the morning of the workshop, so please ensure you include your correct email address during the checkout process. Please also ensure you not only print a copy, but that you also download and save a copy of the receipt.
Where:
The seminar room is in central Belmont, near the Belmont Forum shopping centre, with parking on site and major bus routes passing by. The address and any other relevant information, will be forwarded to attendees approx 3 days prior to the event, so please ensure you include your correct email address during the checkout process.
When:
Sunday, May 21st. 8.45am check-in with a 9.00am start. Conclusion around 3.00-3.30pm
If you require more information, please call our Belmont store on (08) 9478 1211 between 10am-5pm Mon-Friday, and 10am-1pm Saturday.
---
Purchasing MULTIPLE TICKETS:
If purchasing multiple tickets, you must include the full names of all those attending in the "Comments" section at checkout, to assist with our records.
---
PAYMENT:
When purchasing tickets you will be directed to a Paypal page during the final stage of checkout. You DO NOT NEED a Paypal account, you can pay using a debit or credit card. We use Paypal for our payment system as it is the easiest and safest method for both the purchaser and ourselves.
---
Testimonials:
"I attended the workshop and thoroughly appreciate Hayden's professional and knowledgeable presentation"...
- Omero Combi, Perth - Dec 2016
"I've been to two courses with Murray and Hayden and both of them have been great. The first one was in Perth and the second in Capel at the Capel Country Club. Both courses were excellent and provided exceptional value for money. We learned all of the basic requirements to build, run and maintain an aquaponics system, and a few of the more complex aspects such as water chemistry"...
- Andrew Fleming W.A. - Sept 2016
"I have taught Aquaponics with Perth Aquaponics and found the content of Perth Aquaponics training days to be excellent. Very happy days actually. Good people all wanting to grow better food, chemical free food for their families"...
- Murray Hallam – Practical Aquaponics - April 2016
---
Your Presenter:
Hayden Arrowsmith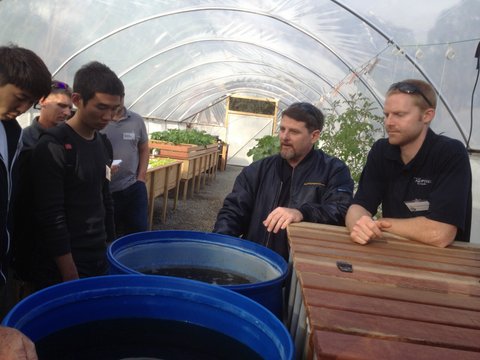 - Trade Qualified Horticulturalist
- Certificate IV in Training & Assessment
- Proprietor of Perth Aquaponics, Belmont, Western Australia
Hayden is a trade qualified Horticulturalist with 30+ years trade experience in a wide variety of horticultural fields, including 20+ years in hydroponics and over a decade of combined Aquaponic experience.
Pilbara born and raised, Hayden undertook his horticultural apprenticeship and initially worked in numerous towns throughout the Pilbara region of Western Australia. He has since worked across the much of the state, from Broome in the North, to Perth and the Southwest, throughout the Wheatbelt of W.A, down to Albany in the Great Southern, in a very diverse range of horticultural fields.
Hayden has taught horticulture at a TAFE level, lecturing in Irrigation & Water Transfer, as well as Plant Propagation & Greenhouse Procedures while the Head Groundsperson at Karratha College.
Hayden (Yabbies) started his first aquaponic system back in the very early 90's... Deep Water Culture (DWC) rafts containing plants, floated on the surface of a large Goldfish pond. This first system was based purely on trial and error, as there simply wasn't any information on aquaponics readily available at the time, he just knew from his horticultural studies that nutrient rich water from fish ponds etc could be used to successfully grow plants, as it had been practised in some cultures for hundreds, even thousands of years.
He currently owns and operates Perth Aquaponics, a retail aquaponic store located in Belmont, Western Australia, that was originally opened in 1990 as Perth Hydroponic Centre. In 2009, with the surge in interest in aquaponics, Hayden began selling aquaponic equipment and advising on aquaponic matters. The shop name was officially changed to Perth Aquaponics in 2010 and now specialises in aquaponics.
Hayden has presented at Murray Hallam's 4 day Future Farms aquaponics training course in Brisbane, as well as regularly running one day Introduction to Aquaponics Workshops in Perth and across country W.A, from Capel and Kojonup in the South, to Geraldton in the Mid-west, as well as Darwin in the N.T.
Hayden also presents aquaponic school incursions and operates an on-site aquaponic consultancy service, helping out home based enthusiasts with any aquaponics issues they may have.
---
Please Note: As with any workshop, seminar, live event etc, this workshop may be subject to cancellation due to unforeseen circumstances. In the unlikely event that the workshop is cancelled the purchaser will be notified a.s.a.p. and the full ticket purchase price will be refunded to the purchaser via Paypal.
---
Write a review
Your Name:
Your Review:
Note: HTML is not translated!
Rating:
Bad
Good
Enter the code in the box below: