Nutrifield Myco Thrive - Beneficial Mycorrhizae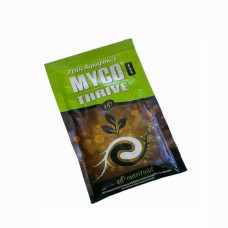 Product Code:
Nutrifield Myco Thrive 20gm
Availability:
In Stock
Price: AU$14.90

Nutrifield Myco Thrive - Beneficial Root Promoting Mycorrhizae (Fungi) - 20gm
Myco Thrive is a powdered inoculum of four carefully selected species of endomycorrhizae. Endo meaning they work within the plant root system.
Myco Thrive can increase the size of the effective rooting area of your plants, increasing their vigour by facilitating the absorption of extra nutrients and water.
Use Myco Thrive in combination with Tricho Thrive to complement and bolster your complete nutrient regime.
Contains:
- Glomus intraradices
- Glomus etunicatum
- Glomus aggregatum
- Glomus mosseae
Write a review
Your Name:
Your Review:
Note: HTML is not translated!
Rating:
Bad
Good
Enter the code in the box below: