Nutrifield Tricho Thrive - Rhizobacteria - Trichoderma etc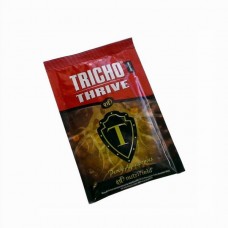 Product Code:
Nutrifield Tricho Thrive 20gm
Availability:
In Stock
Price: AU$14.90

Nutrifield Tricho Thrive - Plant Growth Promoting Rhizobacteria - 20gm
Tricho Thrive contains plant growth promoting Rhizobacteria and free living soil microorganisms.
Adequate populations of microorganisms are critical for a healthy soil. When they are lacking, Tricho Thrive is the answer to inoculate the soil with essential microbial elements.
Use Tricho Thrive in combination with Myco Thrive to complement and bolster your complete nutrient regime.
Contains:
- Trichoderma spp.
- Azospirillum spp.
- Bacillus spp.
- Pseudomonas spp.
- Cellulomonas spp.
- Streptomyces spp.
Write a review
Your Name:
Your Review:
Note: HTML is not translated!
Rating:
Bad
Good
Enter the code in the box below: